Study in Ireland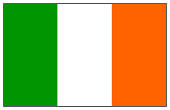 Ireland has a fine tradition of providing quality education and scientific research. The country has a literacy rate of 99%. It has one of the best education systems in Europe (2004 IMD World competitiveness Report) with a history rich in tradition and learning. The quality education provided by universities of Ireland has led to rapid growth of economy. Dublin, the capital of Ireland, accommodates some of the best educational institutions.
Ireland offers a wide range of universities and courses to choose from. The option of customizing the course helps one study the subject he is interested in.
The academic excellence of universities of Ireland is proved by the fact, that according to the 2007 Independent IMD World Competitiveness Report, the education system in Ireland is regarded as one of the best in the world.
The official language of Ireland is Irish. For studying in Ireland, it is not mandatory that you should know Irish only. Universities that cater to foreign students are required to have programmes in English.
Besides studying, students can become a part of different groups or clubs formed by universities. Studying in Ireland can also be a wonderful experience, as Irish people are respected worldwide for their friendly nature.